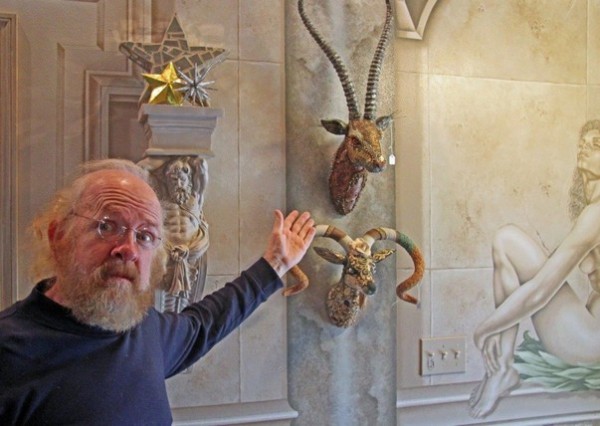 "Does someone live here?"
That might well be the first question from passers-by regarding the ivy-clad abode of Eric and Hèléne Bess, tucked away in the Hammock across from Washington Oaks State Park.
Yes, someone does live here. They also work there.
The Besses have lived in their home, which perhaps more closely resembles something out of "Alice Through the Looking Glass" than a typical house or art gallery — it's both — since 1998.
"I'd say 99.9 percent of everything is for sale," said Eric Bess, who with his cap, pipe and beard resembles an old mariner, captain of a ship of treasures.
Upon entering the Besses' home and studio at 3 Surf Drive, a visitor sees mosaics everywhere — rooms, furniture, even ceilings — as well as other refurbished items and an array of decorative art.
"People are going to come in here and say 'I want this, I want that, I want this on my ceiling. I want painted furniture,'" Hèléne Bess said. And the Besses will offer to go to their homes and do just that.
If You Go
WHAT: Bess Studio, an eclectic collection of fine art (painting & mixed-media painting), "wisdom art" (3D assemblage), and artistic embellishment murals, faux)
WHERE: 3 Surf Drive, Palm Coast
WHEN: Every other Saturday or by appointment; call 386-447-3915
DETAILS: bessstudioonline.com
The Besses open their home to gawkers and art aficionados every other Saturday; they're also available by appointment.
Read the full Daytona Beach News-journal article here:
http://www.news-journalonline.com/article/20160302/NEWS/160309980/101045/ARTICLES?Title=Home-is-where-the-art-is-Couple-s-Hammock-gallery-is-also-their-home-&tc=ar