THIS SQUATTING COMEDY SHOW HAPPENS IN SHUTTERED VENUE PARKING LOTS IN HONOR OF MELTDOWN COMICS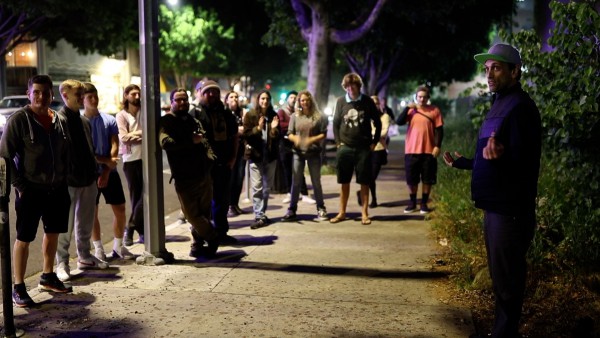 May 15, 2019…Being a standup comic in a city like L.A. can feel like a thankless endeavor. With the slew of venues and billboards, astronomical number of comedians, ladder-climbing opportunists, and low to nonexistent pay in such an expensive city, comedy saturates its makers in a way that can numb like a psychiatric drug.
One L.A. comic I spoke with – Adam Gropman, a veteran of 15-plus years – says, "It seems that in secondary cities it's easier to be bigger fish if you have a together act, easier to get some stage time at the major clubs, easier in many cases to get real audiences watching open mics."
In other words, the scene is ruthlessly competitive, and comic safe spaces are hard to come by. But there is one weekly show in town, Squatmelt, that offers shelter. You probably haven't heard of it. Some have described it as "the Fight Club of comedy" but it is a uniquely friendly place.
There is no actual venue. At least not in the traditional sense. You are literally squatting.
For most of the show's existence, that squatting has taken place in parking lots outside defunct comedy clubs. The enterprise is the brainchild of local comic and comedic rapper Howard Kremer, who also hosts. Kremer, describing the unique cachet as "the stars of tomorrow in the places of yesterday," books a handful of mostly up-and-coming comedians each week.
Read the full article here: https://www.lataco.com/squatting-comedy-show-meltdown-comics/